Wi-Fi Sd Cards
My latest weekend project. Making a normal digital camera WIFI enabled.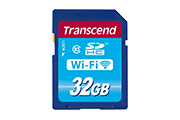 With the Transcend Wi-Fi SD Card you can convert any digital camera into a Wi-Fi enable camera.
What I did here is to set it up so that it would automatically upload photos whenever I turn the camera on while at home.
The nice thing about this camera is that it runs a fully functional Linux environment within the card. The manufacturer was also nice enough to give you the opportunity to customize the card by running arbitrary shell scripts from the SD card itself.
My code is in github.